Sobre nosotros
Moms Kebab & Pizza te ofrece la más exquisita variedad de Kebab que puedes encontrar en Arona. Ven a visitarnos o haz tu pedido online. Verás como te sorprenderemos con nuestras especialidades.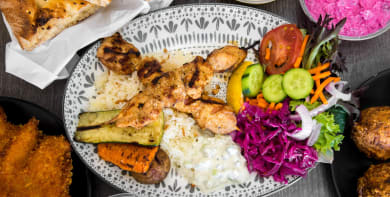 Opiniones
36 comentarios
Dan
"Pizza fantástico!!! Hemos pedido 2 pizzas grandes, y son gigantes y muy muy ricos. Además de eso, las patatas fritas son frescas y caseras. Estamos encantados con la calidad. 5 estrellas."
07/08/2021
Pedro
"Muy recomendable. El repartidor muy amable y servicial. A+++++"
05/07/2021
Robert
"Excellent!"
28/06/2021
chelseafairley
"Amazing service and food was absolutely delicious! Staff are super friendly and very accommodating. Pizza was lovely and twice as big as we were expecting, recommend 100%!"
08/06/2021
Menú
Pizza Margarita, Mediana 33cm
Tomato, mozzarella
Tomate, mozzarella
4,90 €
Pizza Prosciutto, Mediana 33cm
Tomato, mozzarella, ham
Tomate, mozzarella, jamón
6,00 €
Pizza Funghi, Mediana 33cm
Tomato, mozzarella, mushrooms
Tomate, mozzarella, champiñones
6,00 €
Pizza Americana, Mediana 33cm
Tomato, mozzarella, salami
Tomate, mozzarella, salami
6,00 €
Pizza Peperoni, Mediana 33cm
Tomato, mozzarella, spicy salami
Tomate, mozzarella, salami picante
6,00 €
Pizza Vegetariana, Mediana 33cm
Tomato, mozzarella, mixed vegetables
Tomate, mozzarella, verduras mixtas
7,00 €
Pizza Reina, Mediana 33cm
Tomato, mozzarella, ham, mushrooms
Tomate, mozzarella, jamón, champiñones
6,50 €
Pizza Tonno, Mediana 33cm
Tomato, mozzarella, tuna
Tomate, mozzarella, atún
6,00 €
Pizza Cipolla, Mediana 33cm
Tomato, mozzarella, onions
Tomate, mozzarella, cebolla
6,00 €
Pizza Tonno Cipolla, Medidana 33cm
Tomato, mozzarella, tuna, onions
Tomate, mozzarella, atún, cebolla
7,00 €
Pizza Hawaii, Mediana 33cm
Tomato, mozzarella, ham, pineapple
Tomate, mozzarella, jamón, piña
7,00 €
Pizza Bomba, Mediana 33cm
Tomato, mozzarella, spicy salami, onions, peppers
Tomate, mozzarella, salami picante, cebolla, pimientos
7,50 €
Pizza Kebab, Mediana 33cm
Tomato, mozzarella, kebab meat (chicken or beef)
Tomate, mozzarella, carne kebab (pollo o ternera)
7,00 €
Pizza Quatro Formaggi, Mediana 33cm
Tomato, 4 cheeses
Tomate, 4 quesos
7,00 €
Calzone Napoletana, Mediana 33cm
Tomato, mozzarella, ham, mushrooms
Tomate, mozzarella, jamón, champiñones
7,50 €
Pizza D Trump, Mediana 33cm
Tomato, mozzarella, burger, onion, bacon, egg
Tomate, mozzarella, burger, cebolla, bacon, huevo
10,00 €
Pizza All Inclusive, Mediana 33cm
Tomato, mozzarella, pepper, mushrooms, bacon, ham, pepperoni, kebab, egg, sausage
Tomate, mozzarella, pimiento, champiñones, bacon, jamón, pepperoni, kebab, huevo, salchicha
11,00 €
Pizza Siciliana, Mediana 33cm
Tomato, mozzarella, olives, anchovies, capers
Tomate, mozzarella, aceitunas, boquerones, alcaparras
7,00 €
Pizza Carnívoro, Mediana 33cm
Tomato, mozzarella, kebab meat, spicy salami, ham, bacon
Tomate, mozzarella, carne kebab, jamón, salami picante, bacon
8,00 €
Pizza Tenerife, Mediana 33cm
Tomato, mozzarella, tuna, mushrooms, ham
Tomate, mozzarella, atún, champiñones, jamón
7,50 €
Pizza Barbeque, Mediana 33cm
Tomato, mozzarella, bacon, chicken breast, onion, barbque sauce
Tomate, mozzarella, bacon, pechuga de pollo, cebolla, salsa barbacoa
8,00 €
Pizza Spicy Chicken, Mediana 33cm
Tomato, mozzarella, chicken, onion, mushrooms, chilli peppers
Tomate, mozzarella, pollo, cebolla, champiñones, guindillas
8,00 €
Pizza Brexit, Mediana 33cm
Tomato, mozzarella, spicy salami, chili peppers, garlic
Tomate, mozzarella, salami picante, guindillas, ajo
9,00 €
Pizza Seafood, Mediana 33cm
Tomato, mozzarella, seafood
Tomate, mozzarella, marisco
9,50 €
Pizza English, Mediana 33cm
Tomato, mozzarella, egg, bacon, sausage, peperoni
Tomate, mozzarella, huevo, bacon, salchicha, peperoni
9,00 €
Pizza Margarita, Grande 45cm
Tomato, mozzarella
Tomate, mozzarella
12,50 €
Pizza Prosciutto, Grande 45cm
Tomato, mozzarella, ham
Tomate, mozzarella, jamón
14,50 €
Pizza Funghi, Grande 45cm
Tomato, mozzarella, mushrooms
Tomate, mozzarella, champiñones
14,50 €
Pizza Americana, Grande 45cm
Tomato, mozzarella, salami
Tomate, mozzarella, salami
14,50 €
Pizza Peperoni, Grande 45cm
Tomato, mozzarella, spicy salami
Tomate, mozzarella, salami picante
14,50 €
Pizza Vegetariana, Grande 45cm
Tomato, mozzarella, mixed vegetables
Tomate, mozzarella, verduras mixtas
15,00 €
Pizza Reina, Grande 45cm
Tomato, mozzarella, ham, mushrooms
Tomate, mozzarella, jamón, champiñones
15,00 €
Pizza Tonno, Grande 45cm
Tomato, mozzarella, tuna
Tomate, mozzarella, atún
14,50 €
Pizza Cipolla, Grande 45cm
Tomato, mozzarella, onions
Tomate, mozzarella, cebolla
14,50 €
Pizza Tonno Cipolla, Grande 45cm
Tomato, mozzarella, tuna, onions
Tomate, mozzarella, atún, cebolla
15,00 €
Pizza Hawaii, Grande 45cm
Tomato, mozzarella, ham, pineapple
Tomate, mozzarella, jamón, piña
15,00 €
Pizza Bomba, Grande 45cm
Tomato, mozzarella, spicy salami, onions, peppers
Tomate, mozzarella, salami picante, cebolla, pimientos
16,00 €
Pizza Kebab, Grande 45cm
Tomato, mozzarella, kebab meat (chicken or beef)
Tomate, mozzarella, carne kebab (pollo o ternera)
15,00 €
Pizza Quattro Formaggi, Grande 45cm
Tomato, 4 cheeses
Tomate, 4 quesos
16,00 €
Pizza D Trump, Grande 45cm
Tomato, mozzarella, burger, onion, bacon, egg
Tomate, mozzarella, burger, cebolla, bacon, huevo
19,00 €
Pizza All Inclusive, Grande 45cm
Tomato, mozzarella, pepper, mushrooms, bacon, ham, pepperoni, kebab, egg, sausage
Tomate, mozzarella, pimiento, champiñones, bacon, jamón, pepperoni, kebab, huevo, salchicha
20,00 €
Pizza Siciliana, Grande 45cm
Tomato, mozzarella, olives, anchovies, capers
Tomate, mozzarella, aceitunas, boquerones, alcaparras
15,00 €
Pizza Carnívoro, Grande 45cm
Tomato, mozzarella, kebab meat, spicy salami, ham, bacon
Tomate, mozzarella, carne kebab, jamón, salami picante, bacon
17,00 €
Pizza Tenerife, Grande 45cm
Tomato, mozzarella, tuna, mushrooms, ham
Tomate, mozzarella, atún, champiñones, jamón
17,00 €
Pizza Barbeque, Grande 45cm
Tomato, mozzarella, bacon, chicken breast, onion, barbque sauce
Tomate, mozzarella, bacon, pechuga de pollo, cebolla, salsa barbacoa
17,00 €
Pizza Spicy Chicken, Grande 45cm
Tomato, mozzarella, chicken, onion, mushrooms, chilli peppers
Tomate, mozzarella, pollo, cebolla, champiñones, guindillas
17,00 €
Pizza Brexit, Grande 45cm
Tomato, mozzarella, spicy salami, chili peppers, garlic
Tomate, mozzarella, salami picante, guindillas, ajo
18,00 €
Pizza Seafood, Grande 45cm
Tomato, mozzarella, seafood
Tomate, mozzarella, marisco
19,00 €
Pizza English, Grande 45cm
Tomato, mozzarella, egg, bacon, sausage, peperoni
Tomate, mozzarella, huevo, bacon, salchicha, peperoni
18,00 €
Mom's Special Durum
Meat, chips, salad, feta cheese and sauces in a fresh wrap
Pollo o ternera, papas fritas, ensalada, salsas y queso feta crepe fresco
6,50 €
Meat Kebab Durum
Chicken or beef, bread, feta cheese, sauces
Pollo o ternera, queso feta, salsas
5,90 €
Durum Kebab
Chicken or beef wrap, salad, sauces
Crepe, pollo o ternera, ensalada, salsas
4,90 €
Durum Kebab Mixed
Chicken and beef wrap, salad, sauces
Crepe, pollo y ternera, ensalada, salsas
5,50 €
Durum Falafel (Vegetarian)
Wrap with falafel, salad, sauces
Crepe, albóndigas vegetarianas, ensalada, salsas
4,90 €
Mom's Special Doner Kebab
Meat, chips, salad, feta cheese and sauces in a fresh pita bread
Pollo o ternera, papas fritas, ensalada, salsas y queso feta en pan turo fresco
6,50 €
Meat Kebab Doner
Chicken or beef, pita bread, feta cheese, sauces
Pollo o ternera, pita, queso feta, salsas
5,90 €
Doner Kebab
Fresh pita bread, chicken of beef, salad, sauces
Pan turco fresco, pollo o ternera, ensalada, salsas
4,90 €
Doner Kebab Mixed
Fresh pita bread, chicken and beef, salad, sauces
Pan turco fresco, pollo y ternera, ensalada, salsas
5,50 €
Pita Falafel (Vegetarian)
Falafel, salad, sauces, hummus
Falafel , ensalada, salsas, humus
5,50 €
Kebab Plate
Chicken or beef, chips, salad, feta cheese and sauces
Pollo o ternera, papas fritas, queso feta, ensalada y salsas
7,50 €
Kebab Plate Mixed
Chicken and beef, chips and sauces
Pollo y ternera, papa fritas, salsas
7,50 €
Falafel Plate
Falafel, chips, salad, hummus and sauces
Falafel, papas fritas, ensalada, hummus y salsas
7,50 €
Kebab Paella
Paella de kebab (recommended)
7,50 €
Kebab, Rice and Chips
Kebab, arroz y papas fritas
7,50 €
Chips and Cheese
Papas fritas con queso
3,50 €
Crazy Chips
Ham, cheese, bacon, 3 sauces
Papas locas: queso, jamón, bacon, 3 salsas
5,00 €
Chicken of Fish Nuggets
Chips, sauce
Nuggets de pollo o pescado: patatas fritas, salsas
6,00 €
Sausage and Chips
Chips, sauce
Salchicha con papas: papas fritas, salsas
6,00 €
Omelette
(Choose one)
Tortilla a elegir
6,00 €
Pita Burger
Double meat, cheese, lettuce, tomato, onion, ketchup, mayonnaise...in a home made pita bread
Hamburguesa pita: doble carne, queso, lechuga, tomate, cebolla, ketchup, mayonesa...en pan pita casera
4,90 €
Pita Burger Mon's Special
Double meat, kebab meat, cheese, lettuce, tomato, onion, ketchup, mayonnaise, kebab sauce, chilli sauce...in a home made pita bread
Hamburguesa Pita Mom's Special: doble carne, carne kebab, queso, lechuga, tomate, cebolla, ketchup, mayonesa, salsa kebab, salsa picante...en pan pita casera
5,90 €
Wrap Burger Special
Double meat, kebab meat, cheese, lettuce, tomato, onion, ketchup, mayonnaise, kebab sauce, chilli sauce in home made wrap
Doble carne, carne kebab, queso, lechuga, tomate, cebolla, ketchup, mayonesa, salsa kebab, salsa picante en crepe casero
5,90 €
Turkish Salad
Tomato, onions, cucumber, lettuce
Ensalada turca: tomate, cebolla, pepino, lechuga
6,00 €
Tuna Salad
Tomato, onions, green salad, tuna
Ensalada de atún: tomate, cebolla, lechuga, atún
6,00 €
3 Cheese Salad
Tomato, onions, green salad, 3 cheeses
Ensalada 3 quesos: tomate, cebolla, lechuga, 3 quesos
6,00 €
Kebab Salad
Tomato, onions, green salad, kebab meat
Ensalada kebab: tomate, cebolla, lechuga, carne kebab
6,00 €
Greek Salad
Tomato, onions, green salad, peppers, cucumber, olives, feta
Ensalada griega: tomate, cebolla, lechuga, pimiento, pepino, aceitunas, feta
6,00 €
Caesar Salad
Lettuce, tomato, chicken, croutons, cheese, sauce
Ensalada caesar: lechuga, tomate, pollo, crutones, queso, salsa
6,00 €
Falafel Salad
Lettuce, tomato, onions, falafel
Ensalada falafel: lechuga, tomate, cebolla, falafel
6,00 €
Garlic Focaccia
Focaccia con ajo
4,50 €
Cheese Focaccia
Focaccia con queso
4,50 €
Garlic and Cheese Foccacia
Foccacia con ajo y queso
4,50 €
Sandwich Tuna
Lettuce, tuna, onions, tomato, mayonnaise
Sándwich atún: lechuga, atún, cebolla, tomate, mayonesa
4,90 €
Sandwich Crispy Bacon
Lettuce, crispy bacon, tomato, onions, cheese, mayonnaise
Sándwich bacon crujiente: lechuga, bacon crujiente, cebolla, tomate, queso, mayonesa
4,90 €
Sandwich Chicken
Lettuce, chicken, tomato, cheese, onions, mayonnaise
Sándwich pollo: lechuga, pollo, tomate, queso, cebolla, mayonesa
4,90 €
Sandwich Chicken and Bacon
Lettuce, cheese, chicken, crispy bacon, tomato, onion, hot sauce, mayonnaise
Sándwich pollo y bacon: lechuga, queso, pollo, bacon crujiente, tomate, cebolla, salsa picante, mayonesa
5,20 €
Sandwich Ham and Cheese
Lettuce, tomato, york ham, cheese, mayonnaise
Sándwich jamón y queso: lechuga, tomate, jamón cocido, queso, mayonesa
2,90 €
Pluto
Tomato, mozzarella
Tomate, mozzarella
3,90 €
Mickey Mouse
Tomato, mozzarella, ham
Tomate, mozzarella, jamón
5,00 €
Helado Familiar
Family ice cream
4,50 €
Cerveza Dorada, Botella 0.33L
2,50 €
Cerveza Heineken, Botella 0.33L
2,50 €
Cerveza Budweiser, Botella 0.33L
3,00 €
Cerveza John Smith Can, 0.5L
4,00 €
Cerveza Guinnes Can, 0.5L
4,00 €
Cerveza Sin Alcohol
Alcohol free beer
2,50 €
Vino Tinto de la Casa, 0.75L
5,00 €
Vino Blanco de la Casa, 0.75L
5,00 €
Vino Rosado de la Casa, 0.75L
5,00 €
Contacta con nosotros
Encuéntranos
Av. las Américas, 8, Arona, 38660
Horario de apertura
Por favor, ten en cuenta que el tiempo de entrega puede variar
Realizamos entregas en
38650, 38660